FUCK ART, LET'S KILL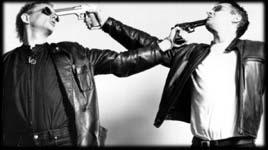 Vocals, lyrics, arrangements, and sound hack: Jared Hendrickson.
Music, arrangements, programming, loop surgery, sampling: Dylan Thomas More.


Originally out of D.C., Chemlab is a very unique band that pits the cold, precision of the synthesizer versus the rage of the guitar. The core members of the group are Jared Hendrickson and Dylan Thomas More. The technical wizardry of Dylan and Jared's lyrical savvy create a incredibily amiable sound.

Roughly Five years ago, Chemlab got its start when Dylan was looking for a vocalist, and Jared was mentioned. The two were introduced at the 9:30 Club, and soon they started their musical partnership. Jared turned Dylan onto a different, more intense kind of music embodied by older industrial bands like Throbbing Gristle and Whitehouse.

Chemlab's debut EP, Ten Ton Pressure, was a big success considering its relatively poor distribution. "Ten Ton Pressure" got the attention of a core of industrial music fans, and helped pave the way for the group. Although this EP is now out of print, all of the tracks are on the album, Magnetic Field Remixes.

Burnout at the Hydrogen Bar has been Chemlab's most successful album to date. The fast and biting sound of the album is a good representation of Chemlab's musical style. Many of the songs use guitar segments and ADAT's coupled with Jared's aggressive vocals. "Burnout at the Hydrogen Bar" is a must for any industrial music fan, yet can be appreciated by any rock listener.

"Magnetic Field Remixes". contains one new track, three remixes from "Burnout at the Hydrogen Bar" and the EP "Ten Ton Pressure". Although most of the CD is old Chemlab songs reborn, the track "21st Century", is a different sound for Chemlab. In the song "21st Century", Jared doesn't use a voice filter and the guitar is more involved than in other Chemlab songs.

Chemlab's latest album, "East Side Militia" is a completely new approach for Chemlab. Songs like "Exile on Mainline" represent much of Chemlab's previous material, however, a new, distinct sound has emerged. One of the new characteristics is the tempo of many of the songs. For example the track "Vera Blue" moves at a much slower pace than tracks on previous albums. "Pyromance" is another track with a slower pace, featuring Geno Lenardo on guitar. "Electric Molecular" is highly electronic, with various samples and voice distortion. Other tracks are quite melodic even without their usual sharp, industrial edge.

Jared and Dylan have also been involved in various side projects including: H3llb3nt, Vampire Rodents, To Live and Shave, and Etherbunny.


Fuck killing, Let's Fuck

---
Join Chemlab 2000 and keep yourself up to date on the latest
happenings with Chemlab and Chemlab related projects

Click to subscribe to Chemlab2000
---
Site created by Hypnomix
Spinning ESM Gif s0y0@hotmail.com